CLOSER wins the European Consumers Choice Award 2015
Thursday 01 October 2015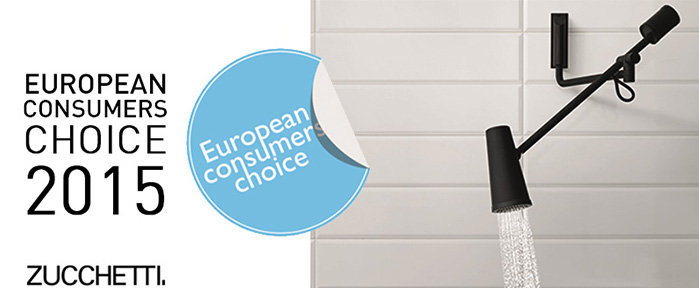 Voted by a strict jury of European consumers, the ECC Award selects and rewards those products that stand out for their extraordinary originality, innovation and quality, recognising excellence in the sectors of design, industry and tourism. The products are tested for daily use by consumers who assess and examine them, commenting on their functionality, innovative characteristics and design quality. The companies receiving the most points are given the prestigious award.
Closer, designed by Diego Grandi for Zucchetti, after having already won the Good Design Award and DesignPlus, scored an amazing 9.9 points, confirming its undisputed visibility and reputation with all the world's opinion leaders, journalists, architects, buyers and even consumers.
These are the jury's motivations: Closer is one of the most interesting contributions to the world of design in the past few years. Design has the aim of inventing new ways of seeing objects and life, and this article cannot be classified in any category: it is an invention. It shows great boldness, while celebrating the technical abilities and knowledge essential for its realisation. A project with perfect equilibrium, in every sense. Good-looking, easy to use, agile in its movements. A project with soul: the soul of a child, a genius, a designer, an artist.
Elena Zucchetti declared: "I am enthusiastic and satisfied that Closer has won this important award, confirmation of the goodness and quality of this innovative project. As with all achievements, the fundamental ingredient here has been serious, shared work, a close-knit team and a collective vision. I therefore also thank the designer Diego Grandi and all those who have contributed to the realisation and communication of this eclectic project."
Closer moves away from the typical references in shape and stands as a truly unprecedented idea: a creative and practical reworking of the shower column. It recalls the aesthetics of a lamp and embraces all the poetry inherent in the idea of changing equilibrium, able to innovate and take on a new guise. Thanks to Closer, water can dance in space, free from normal limits to become the free expression of our needs, for special wellbeing to be enjoyed every day.
Discover more: https://www.europeanconsumerschoice.org/house/zuccheti-closer/