Luxurious Laundry Tubs are here!
Monday 16 July 2018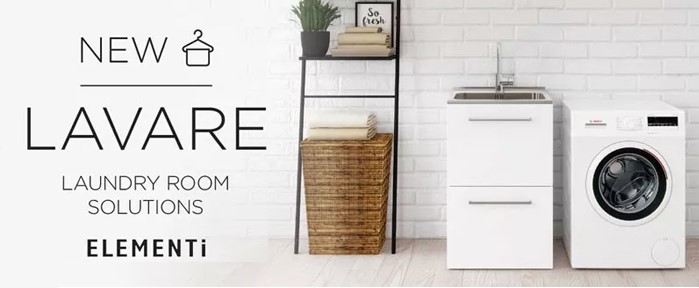 The laundry room has traditionally been the most unloved and neglected room in the house. We're not trying to make anyone feel guilty. A big part of the reason for this has been the lack of top quality products out there.
Things are about to change however with the release of Elementi's Lavare laundry room solutions - a range of elegant and feature-packed laundry tubs and accessories that will turn your laundry room into a statement of style and purpose.
Introducing Elementi's Lavare Laundry Tubs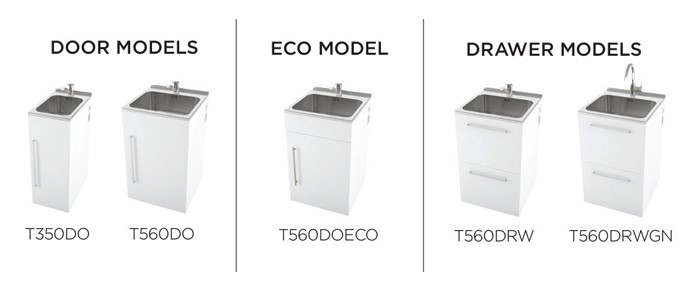 Elementi is Robertson Bathware's own unique brand that has always pushed the boundaries in innovation and style. The ambition remains the same with its take on what the laundry room can and should be. It comes down to design, and good design by nature should also look good in practice and appearance. It's that simple.
The Lavare range epitomises this philosophy. 'Lavare' itself is Latin and means 'to wash'. Simple yet sophisticated, which is the way it all comes together.
Quality that shows

The laundry room is a space that is susceptible to above average wear and tear so it's important that the furnishings are those that are made to last.
Quality components and craftsmanship is key to this and the Lavare range stands by both with a 5 Year Warranty on its powder-coated galvanised steel cabinet as well as the tapware and pipe work.
The pressed stainless steel bowl made of durable 0.8mm thick 304 grade stainless steel comes with a Lifetime Warranty. It also has the added features of a 20mm upstand to stop water splashing behind the tub and an overflow and strainer waste to trap debris.
With the integral elements covered, the Lavare laundry tub is one that you can depend on and one that will give you peace of mind.
A range of choices
The great thing about these laundry room solutions is that they come in a range of choices to suit the varied lifestyles that we lead.
This starts by offering two different sizes (width) with the standard at 560mm and a slim at 350mm to suit the space you have to work with.
You can also choose from the easy-to-use standard hinged full door or the increasingly popular double-drawer models with the soft-close drawer system.
You'll also get the choice of two great tapware options being the Lavare Standard Laundry Mixer Chrome or the Lavare Goose Neck Laundry Mixer Chrome. Both have great functionality and a 5 star WELS rating for excellent water efficiency.
As you can see the choices offer great flexibility to suit a range of living situations and environments.
Feature-packed Laundry Tubs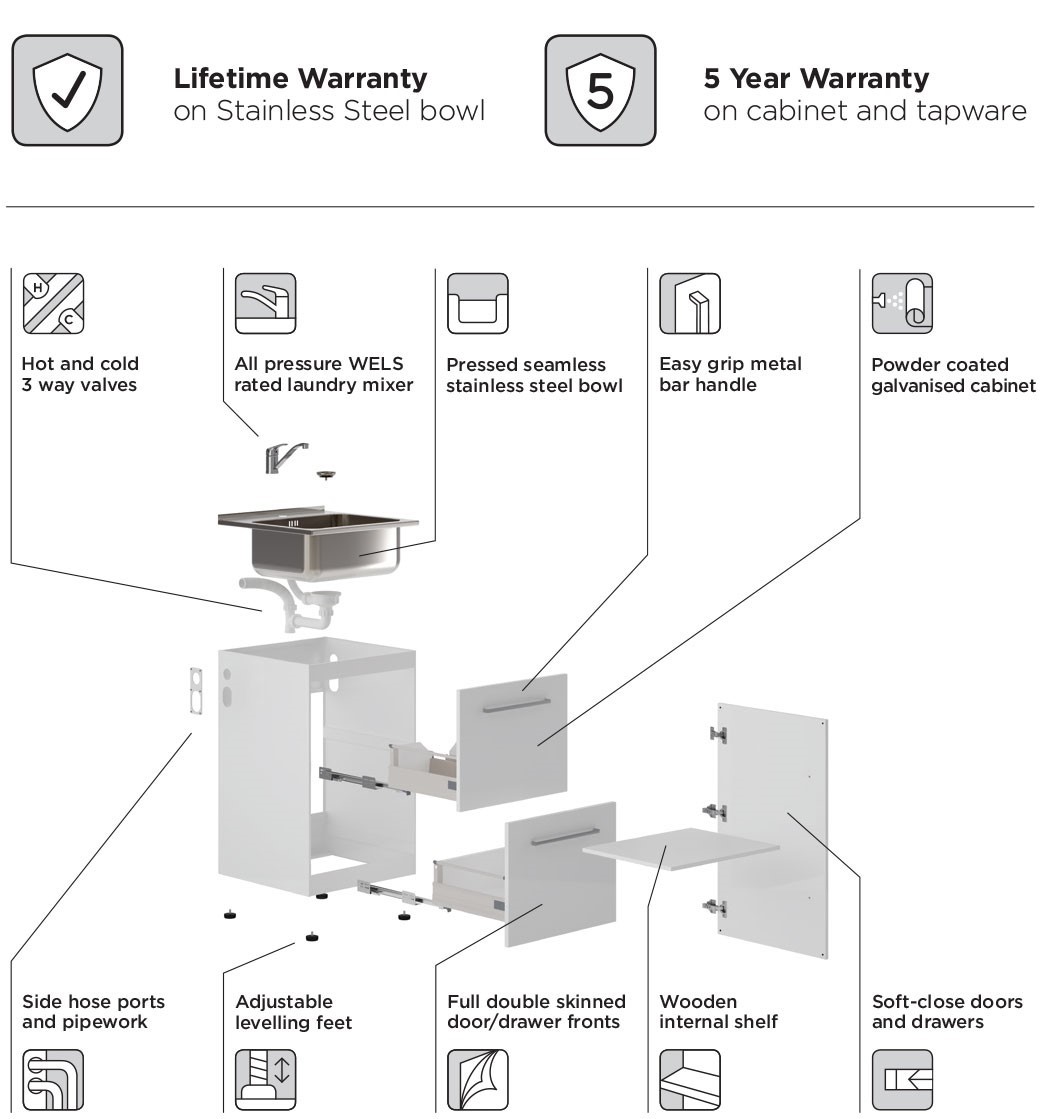 If the Lavare range sounds great already it's about to get even better as we look into the additional features that are included.
Hot and cold 3 way valves that effortlessly connect to your water supply and washing machine hoses
All pressure WELS rated laundry mixer for better water efficiency
Easy grip metal bar handles with stylish brushed nickel finish
Side hose ports on both sides to suit your laundry room configuration
Adjustable levelling feet that can be raised or lowered to suit your needs
Full double skinned doors/drawers for excellent durability and increased rigidity
Wooden internal shelf with door models
A Laundry Room with style
As you can see, the Lavare range from Elementi opens up the possibilities of what your laundry room can be as one that can take pride of place in your house, instead of something that has to be hidden.
On top of that, it makes the chore of laundry, that much easier (and hopefully more enjoyable) which is the way it should be.
Be sure to check out the full range today!