Elementi Verona Select
Monday 27 February 2017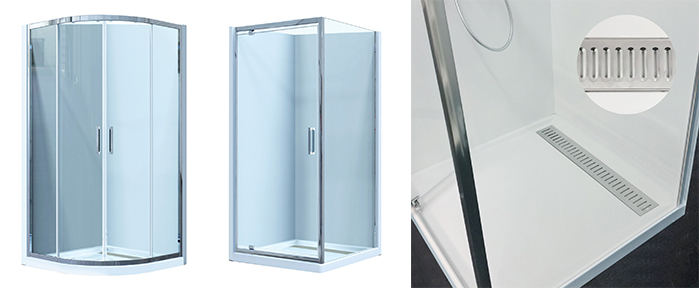 Shower cubicles come in all shapes and sizes to fit in with a variety of bathroom designs, however one thing that varies very little from shower cubicle to cubicle is the waste hole. In 95% of shower cubicles and trays, the waste hole is round and either sits in the centre of the tray or is offset to one of the four corners. Elementi are changing things up a little with their Verona Select Shower Cubicle range. Instead of this standard circular waste. Elementi have gone for a grate tray which stretches the length of the shower tray and makes for a stylish and contemporary finish.
Elementi Verona Select Shower Cubicles and Trays
The Elementi Verona Select Shower cubicle and tray comes in four designs; two round and two square. All four designs offer a modern twist to the usual style of shower cubicle found in the majority of Kiwi bathrooms. The grate waste tray is not only a stylish looking addition to the shower tray it's also extremely practical, enabling water to flow down the drain across the entire width of the shower tray.
All four of the shower cubicles come with a range of features including a 10 year guarantee. Here are some of the highlights:
Reversible so they can be used for right or left hand options
Nano Glass technology provides an easy to clean, non-stick surface
Quick fix system makes fitting simple with no need for drilling holes and fixing screws
Taller superior Door. Having 1950mm of height is more user friendly
Smooth door rollers with easy clean fittings
Quality European Acrylic Liner
Proven Showe Tray design with a 10 year warranty.
You can check out each of four shower cubicles below and find out more by clicking on the link. If you are interested in further information, be sure to drop us a line or send us an enquiry through the website contact form and we can get back to you with further information.