7 bathroom design inspirations for 2018
Thursday 09 November 2017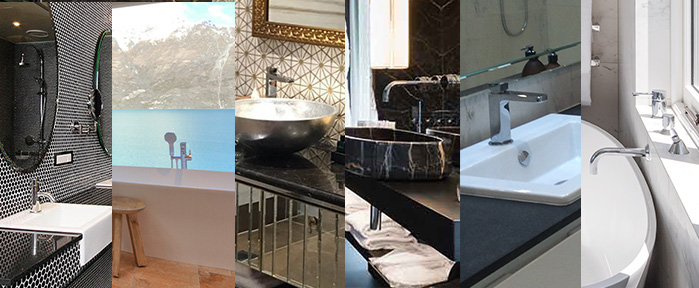 A chance to look back on what has happened over the past year and look ahead to the New Year. We thought we'd kick things off with a look back at some of our favourite bathroom designs we've worked on and give you some inspiration for your bathroom design projects for 2018.
We've worked on a wide range of bathroom design projects, big and small over the past few years. From major global hotel chains to small residential bathrooms, we're luck to work on some truly amazing projects.
Our architects and design team are some of the best in the country and we work with leading bathroom manufacturers from around the world, offering the latest bathroom design trends right here in New Zealand.
So, without further ado, here are seven of our favourite bathroom design projects we have worked on which can inspire you in 2018:
1. Matakauri Lodge, Queenstown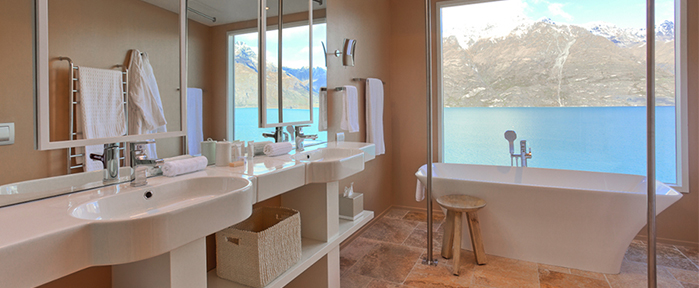 If you have the luxury of stunning views (which many people here in New Zealand do, it's time to celebrate them. This stunning bathroom design at Matakauri Lodge in Queenstown lets you take a dip in a beautiful freestanding bath whilst looking out over Lake Wakitipu. Doesn't get much better than that.
2. Room Mate Hotel Giulia, Milan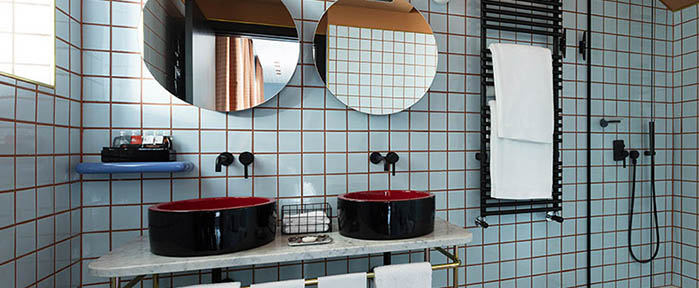 If you have the space for twin basins, then this stunning look from the Room Mate Hotel Giulia in Milan is something to aspire to in 2018. The rest of the bathroom was finished with striking tiles to complete a contemporary look.
3. Hotel De Brett, Auckland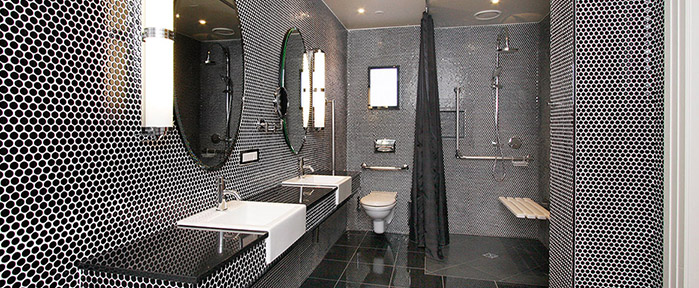 Bathrooms come in all sorts of shapes and sizes. This bathroom as Hotel De Brett in Auckland needed some careful design work to ensure everything worked in harmony. The long, thin bathroom really makes the most of the longest wall with two striking mirrors and a twin basin set up. The bathroom has the appearance of size thanks to the glass panelled shower cubicle that lets you see all the way to the far end of the bathroom.
4. Sofitel SO, Wellington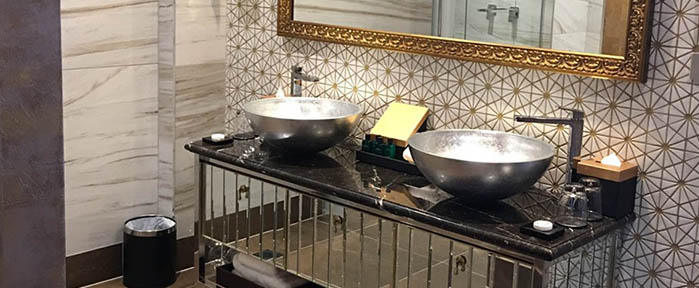 A feature that comes up time and time again is are the basins. These cool vessel basins create a distinct look in this bathroom at the top of the range Sofitel SO Hotel in Wellington and complete a stunning bathroom design which was implemented throughout the hotel.
5. Viu Hotel, Milan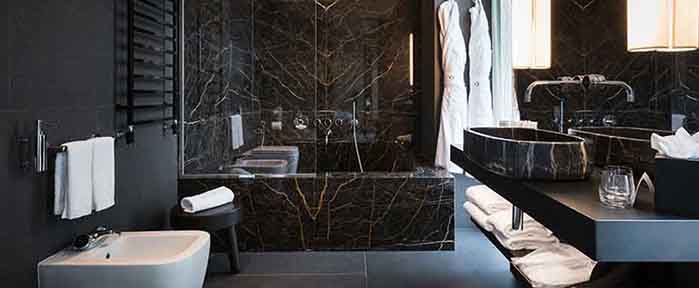 If you want to go really upscale, take some inspiration from this beautiful bathroom design project at the Viu Hotel in Milan. Beautiful clean lines are complemented by the striking tiles and large mirror that makes the bathroom feel even more spacious.
6. Tamaki Drive Apartments, Auckland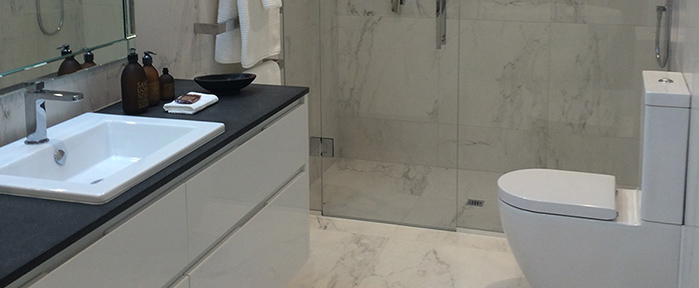 When space is at a premium, it's important to make the most of it. We worked on a bathroom design project at Tamaki Drive Apartments in Auckland. Like many apartments, space in the bathroom is often limited but this bathroom design manages to feel spacious and light. The glass cubicle on the shower means you can see all the way from front to back, creating the illusions of more space.
7. The Chambers, Mt Eden, Auckland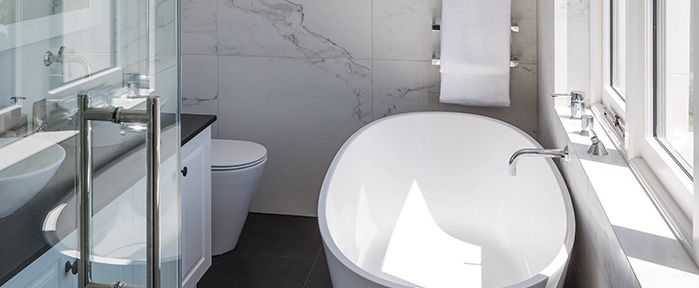 If you ever thought a freestanding bath couldn't work in a small bathroom, check out this amazing bathroom design project from The Chambers in Mt Eden. Despite the small bathroom space, our designers pieced together a stunning bathroom design which incorporated a striking freestanding bath as well as a sizeable vanity unit.
Summary
2018 promises to be another ground-breaking year with new technologies and innovations introduced to the bathroom. These are some of our favourite bathroom designs from the past couple of years but we really look forward to seeing what comes next.
If you have a great bathroom design project, we'd love to see it. Drop us a line on our Facebook page and send us some snaps – we'd love to share them with our customers so we can inspire the next amazing bathroom designs in 2018.