5 tips for an ultra-modern bathroom
Monday 27 November 2017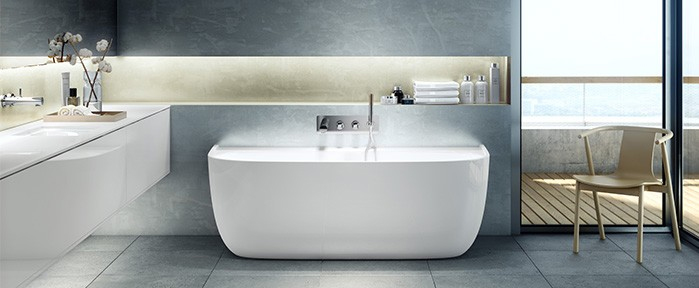 Modern bathrooms tend to be more simplistic and clean. Lots of light, geometric shapes and patterns, minimalistic colours and modern furniture are a big feature of modern bathroom designs. Using these finishes and furniture can help you create an oasis of calm, where you can relax at the end of the day or wake up fresh in the morning.
No matter what size of bathroom you have, these 5 top tips will help to create a modern bathroom design that is sophisticated, light and refreshing.
1. Simple and Minimalistic Design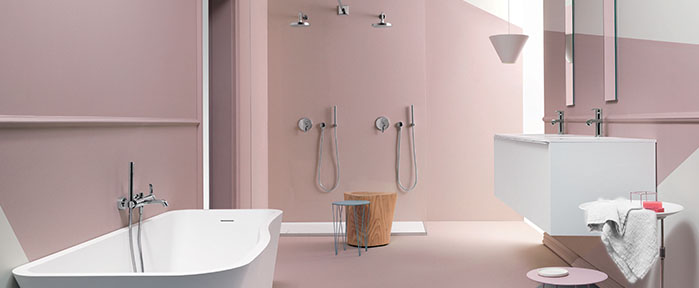 This is a rule of thumb for all modern designers. Keep things clean and simple to help create that modern feel. Keep your bathroom space free of clutter. Here are some tips to help with a simple and minimalistic design:
Use your cabinet space and shelving to hide unnecessary toiletry items
Invest in a vanity unit that has good storage options
Choose tiles and backsplash options with geometric shapes to add a layer of interest and character
Add white flower pots on shelves
Hang up modern framed prints
Add a floor to ceiling mirror
Invest in a set of clean and crisp white towelling or grey
2. Freestanding bathtubs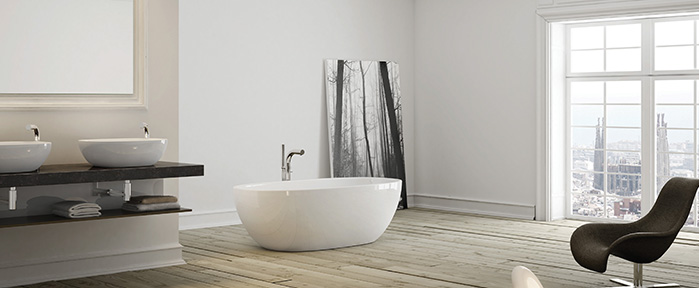 We've talked about this before. A freestanding bathtub is a great addition to any modern bathroom design. Freestanding baths are not just for large bathrooms. They can also work in smaller spaces and actually help to create space by freeing up room around the edges of your bathroom.
Traditionally, freestanding baths are oval in shape, however modern designs are also rectangular too which can add that extra dimension to your bathroom design.
You can read more about freestanding baths in one of our recent posts.
3. Lighting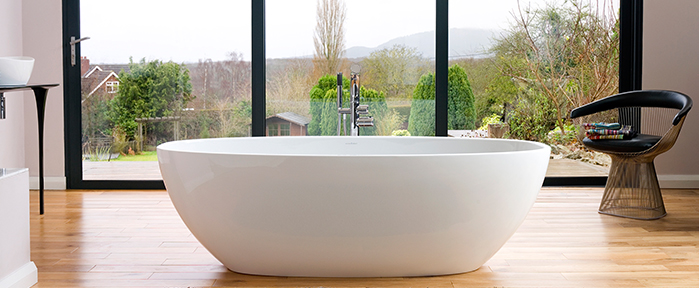 There's no doubt about it. Modern bathroom designs are always well lit. This doesn't mean you have to dazzle your visitors with the brightest light but you so have to be creative both in the type of light and the style of your lighting fixtures.
Another key element to getting the lighting right is the amount of natural light that comes in. Of course, you may be restricted by the location of your bathroom within your house, however where layout permits, try and maximise the amount of natural light that flows into your bathroom. Whether it's nice big windows or for an extra design dimension, skylights, make sure you factor in the quality of the lighting in your planning to create the perfect modern bathroom design.
4. Modern Furniture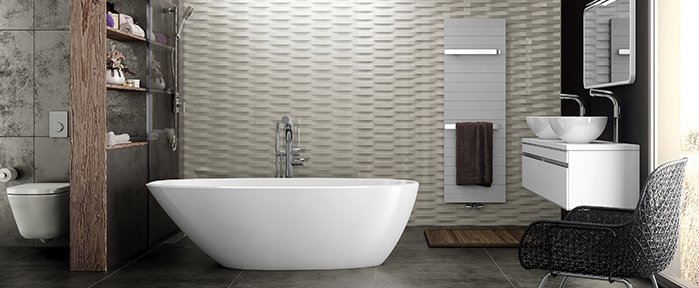 Whilst all the other elements above are important, there is little point in getting these right and then adding in 'antique' furniture and décor. Make sure your furniture matches the overall look and feel of your bathroom. If you have the room, adding things like a modern chair, or even a small sofa can really make your modern bathroom design pop (although being careful not to add clutter and make the bathroom too busy).
5. Plants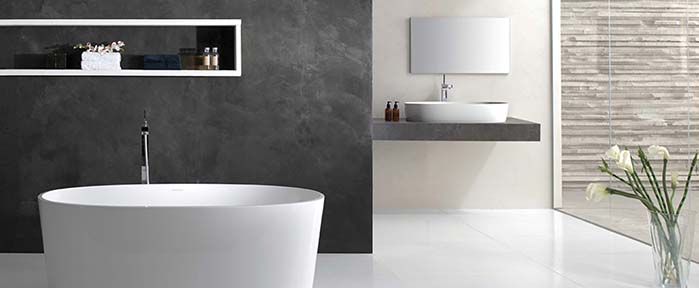 Make the most of those white plant pots we mentioned above and add some greenery to your bathroom design. Not only does this add a touch of natural colour to your bathroom design, it also creates a connection between the outdoors and the inside. Again, make sure you avoid clutter but the clever placement of two or three small plants in the bathroom can really make a huge difference to the overall look and feel.
Summary
Creating a modern bathroom design doesn't have to be expensive and involve lots of fancy new products, furnishing and fixtures. By following these 5 simple steps, you can create a modern bathroom design in almost any space.
By factoring in all five elements, you are much more likely to achieve that stand-out, modern design feel that you are looking for.
For advice and guidance on bathroom design and architecture, you can also speak to our Architects and Design team here at Robertson Bathware who can help with ideas to get you started and advise on the best collections and brands to help you achieve that modern bathroom feel.