The best freestanding baths of 2017
Friday 21 April 2017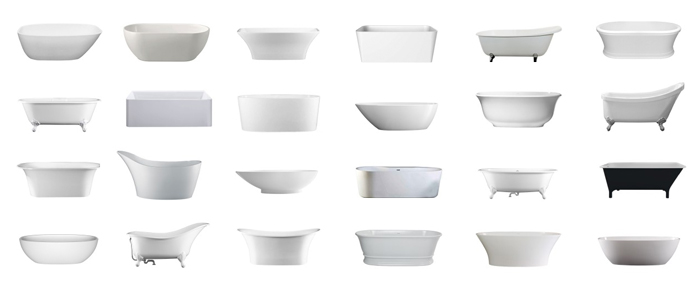 There's something pretty cool about a freestanding bath. They really add a certain presence to a bathroom design and act as the centrepiece of your design. For many people, they're not always a possibility – space tends to dictate how you use your space, however if you do have a large bathroom, a freestanding bath can bring your bathroom design to life.
Freestanding bath designs
Freestanding baths come in all sorts of shapes and sizes, helping you to really customise the look and feel of your bathroom design. The style and finish of your freestanding bath will be dictated by other elements in your bathroom – basin, shower, taps, tiles…everything has to work together and just because you have room for a freestanding bath doesn't mean it will necessarily work with your design.
Choosing a freestanding bath
Once you have decided that you have the space for a freestanding bath in your bathroom design, you then need to decide on the style that will be best suited to the overall look and feel of your bathroom. Here at Robertson Bathware, we currently have 26 freestanding baths and each brings its own unique style. Deciding whether you want one with legs or without, curved or straight edges and what finish are all big decisions.
To help you decide on the perfect freestanding bath for your bathroom, we've pulled together our top five freestanding baths for 2017.
Take a look at our list and get creative: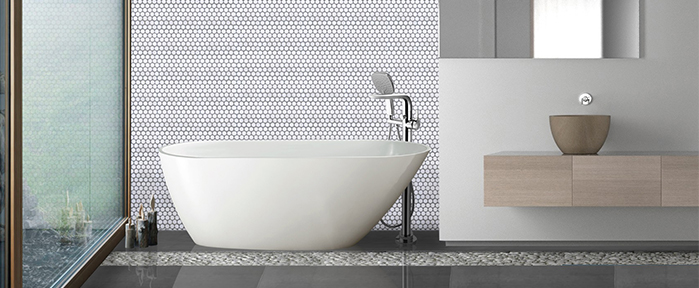 Whilst freestanding baths usually work better in a large bathroom space, that's not to say that you can't have one in a smaller bathroom. The Elementi Bella freestanding bath is perfect for smaller bathrooms and works perfectly as the centrepiece. Featuring a sleek curved design, this freestanding bath will make your small bathroom design come alive.
2. Victoria + Albert Terrassa Quarrycast Freestanding bath - 1702 x 793 x 528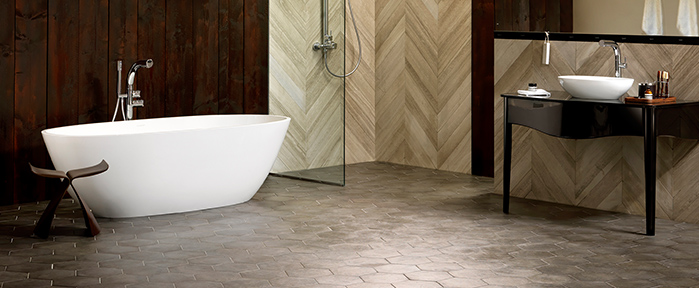 The Terrassa is a double-ended freestanding bath with unique detailing. At just 1702mm in length, it is the perfect match for a contemporary bathroom of any size. Taking many of its design cues from Victoria + Albert's popular Barcelona bath, the Terrassa offers a new and exciting alternative. Its smart sculpted swage details on the inside of the bath create crisp, distinctive shadow lines. The rimless design is synonymous with Victoria + Albert's modern collection.
3. Elementi Otto Acrylic Freestanding Bath – 1700 x 750 x 600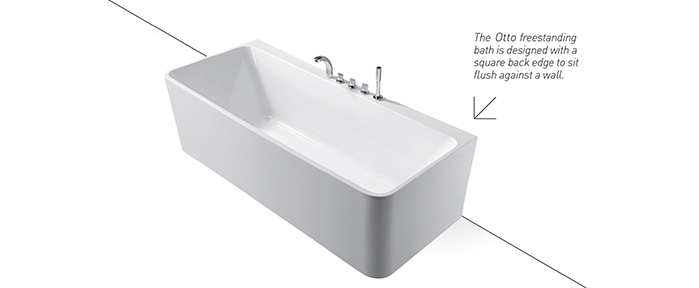 This luxury and unique freestanding bathtub is a combination of state of the art design and the highest quality materials. Designed with a square back to sit flush against a wall, this freestanding bath makes the most of any bathroom space big or small. Whilst this will not be the centrepiece of your bathroom design, the striking design and finish will still add the wow factor to your bathroom.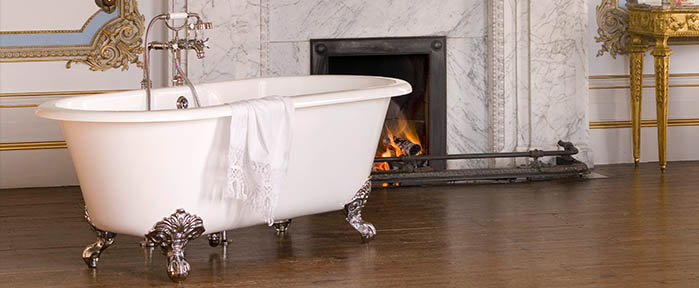 A timeless classic - this deep claw foot Victorian double ended roll top freestanding bath is of generous proportions. Traditional, yet equally at home in a contemporary bathroom, the Cheshire freestanding bath comes with beautifully crafted quarrycast feet which give this bath some real style. This is one of our most popular freestanding baths and a great addition to any bathroom design.
5. Victoria + Albert Amalfi Quarrycast Freestanding Bath – 1640 x 800 x 850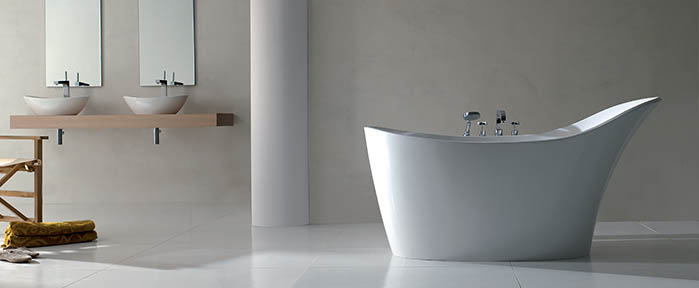 This freestanding bath from Victoria + Albert really makes a statement. Softly contoured sides descend elegantly to the floor uncluttered by waste pipe work and an extended backrest provides full head support; essential for those long luxurious soaks. At just 1640 in length, this is another of our freestanding baths that can work in smaller bathroom spaces.
If you are seriously considering a freestanding bath as part of your new bathroom design or a bathroom remodel, come and talk to us and we will be more than happy to pass on our advice about which freestanding bath will work best in your space along with the accompanying accessories. Call into one of our showrooms or give us a call.