Parisi Ellisse Overheight Toilets
Tuesday 21 March 2017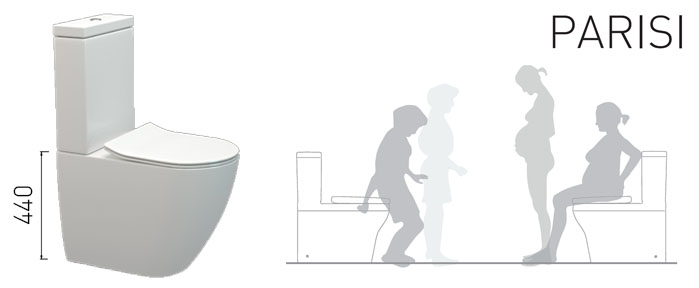 We are pleased to introduce two new toilets to our collection for 2017 from Parisi's Ellisse range. Not only are these toilets stylish, with a classically simple design and an impressive soft close toilet seat. They are also designed to make life easier for those with restricted or limited movement whether that's through old age, pregnancy, injury or disabilities. The overheight design means less of a drop to the sitting position and less distance to push back up, helping to lower the impact of going to the toilet and making life that little bit easier.
Overheight toilet
With a pan and seat that are up to 40mm higher than standard toilets, the two overheight toilets from Parisi allow for easy transfer on and off the seat. Parisi's vision has always been to create and curate the ultimate range of interior products; a range offering a harmonious blend of design and quality. With these two overheight toilets, they have also added practicality to that list.
Overheight toilet features
As well as the practicality of the overheight design, the two Parisi Ellisse toilets also come with some other ground breaking features including a side projection flushing system. This innovative design projects water rather than the traditional flushing mechanism where water pours down the rim. Through the powerful delivery of water and open rim design, maximum cleaning of the inner bowl is achieved. The smooth surface with no overhanging rim also means it is much more hygienic and easier to clean.
As well as Parisi's rimless design, the new Ellisse overheight toilets come with their revolutionary easy clean technology which is applied to the ceramic. Active silver ions are baked into the ceramic glaze, dramatically decreasing the build-up of bacteria and reducing the need for harsh cleaning products.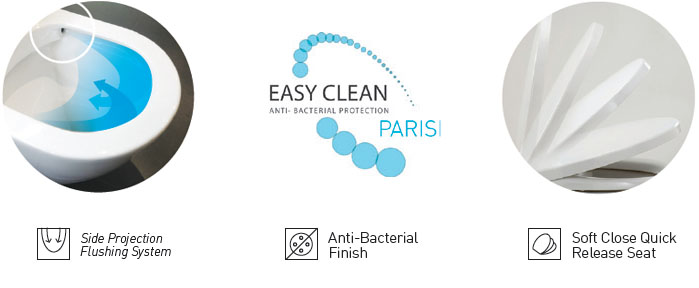 Overview
Both the overheight toilet suite and pan come with the same awesome features:
10 year guarantee
4 star WELS rating
Hand finished
Slim toilet seat design
Elegant curved profile
Soft close seat

Bathroom Design

If you are currently looking to redesign your current bathroom or embarking on a new bathroom design project, the Parisi Ellisse range can be matched with other Parisi collections to complete the bathroom look from the Envy accessories including toilet roll holders, towel rails and mirrors to the Quadro robe hooks and soap dispensers.
If you are looking for some advice on your bathroom design project, make sure you call into our showroom and speak to our architect and design team who will be more than happy to provide you with some ideas for what will work in your bathroom space.