Oli Push Plates – the finer details of your bathroom design
Wednesday 25 January 2017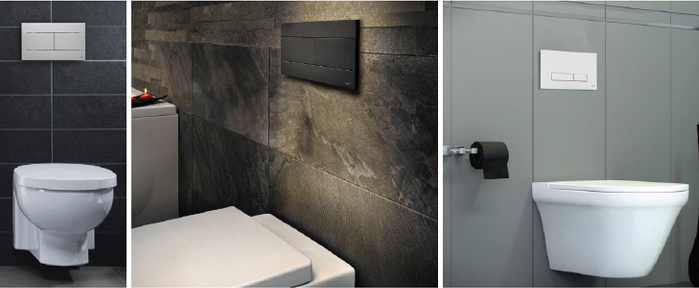 You might think that the way people flush the toilet when they come to your house is not that important, however with a wide variety of styles and colours, Oli's range of push plates is proving that the small details of your bathroom design can make a huge difference to the overall look and feel. With a growing number of inwall cisterns helping to keep your bathroom design clean as well as maximising space, push plates are becoming a much more common feature of modern bathroom designs.
Oli takes push plate design to the next level
If you are really looking for a high level of customisation in your bathroom, Oli are one of the leading companies when it comes to the variety of styles and colours. From their three pneumatic push plate styles; the Mono Trend, Mini Trend and Karisma to the stylish Iplate Mechanical Push Plates that come in a range of colours which can really brighten up your bathroom design using the Iplate Fantasy Kit or, for something a bit more contemporary, the Iplate Elegance Kit which comes in black, anthracite, polished chrome, satin chrome or white.
Mechanical Push Plates
If you are looking for a mechanical push plate for use with an Oli inwall cistern, this is where you can really bring your bathroom design to life. Oli has a range of seven different styles depending on your personal taste. These different styles also come in a range of finishes allowing for complete customisation which will add a stylish finish to your bathroom.
Glam

Globe

Narrow

Plain

Slim

Oceania

Creating bathroom designs that deliver
This range of push plates from Oli is one of our top sellers along with their inwall cistern systems. Offering a high level of customisation, the Oli push plates and inwall cisterns are not only super stylish, they are also extremely practical, helping you to save space in your bathroom, allowing your bathroom tiles to be the star of the show.
You can find out more about the entire Oli range on the website or download our handy PDF guide.