Novara Furniture
Thursday 04 May 2017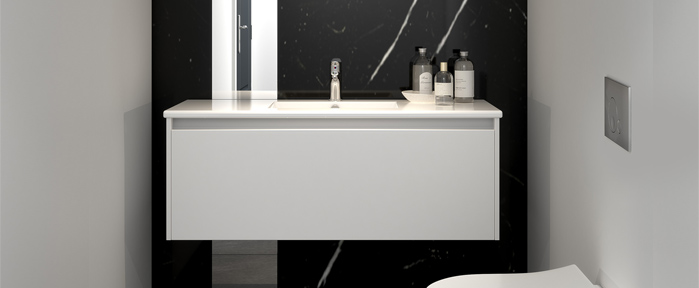 New to Robertson in 2017 are the stunning but minimalistic Novara wall vanities from Elementi. These high quality, New Zealand made vanity units come in a range of four different sizes to suit all bathroom designs. Whether you are looking for something smaller with a handy soft close drawer to save some space or something grander including a double sink then the Novara range of wall vanities is a great option.
Four Finishes
The Novara wall vanity range from Elementi comes in a range of four scratch-resistant finishes including Dezigna White Gloss, Fiordland Elm Wilderness and Coronet Beech Wilderness & French Oak Velvet. The range of colours and sizes make this a very flexible set of wall vanities which can be matched with other products from the Elementi range which come in the same finish.
Minimalistic looks
A strong feature of the Novara vanity range is the minimalistic look. From the sleek China basin top to the handleless drawers, everything about the design of the Novara range means a very clean and simple finish which adds style and sophistication to any bathroom design.
In addition to the clean look on the outside, the Novara range pays close attention to detail throughout. The inside of the single drawers on all four Novara wall vanities are colour-coordinated to match the outside bringing that extra touch of class to this stylish wall vanity. The steel sides on the inside of the drawers add durability.
The drawers themselves features a full extension drawer runner, enabling easy access to all items stored in the drawer and the soft close technology means no more slammed drawers.
Basin tops
All four sizes of Novara wall vanity come with scratch-resistant vitreous china basins. These sleek basins provide a remarkably hard surface which is highly scratch-resistant and guaranteed not to fade or discolour. Manufactured in New Zealand, the Elementi Novara wall vanities all come with a five year basin and cabinet guarantee and have been built to last.
If you are planning a new bathroom design in 2017, make sure you call into our showroom or visit the Home Ideas Centre in Auckland or Wellington and check out these new Elementi Novara wall vanities for yourself.
Elementi has a distinctly European influence with their designs and these new wall vanities certainly follow that trend. These new Novara vanities can be matched with other items in the Elementi range to create a modern, stylish bathroom. Talk to us today and see if our bathroom design team can help you create your perfect bathroom in 2017.

VIEW THE COMPLETE RANGE