Kitchen Sinks with style
Wednesday 15 March 2017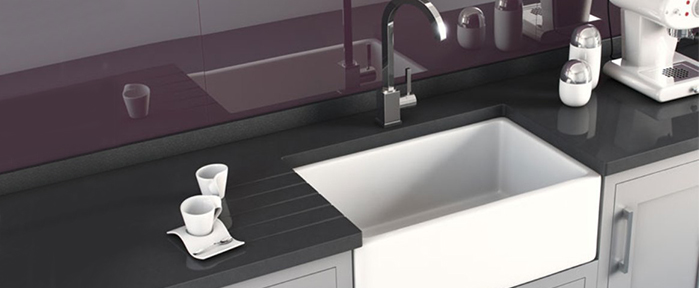 Whilst Robertson's main focus is on bathware, we also stock some extremely stylish kitchen sinks which add a touch of contemporary style to any new kitchen design. To finish off your stylish kitchen, we also have a wide range of kitchen mixers that can be matched with our range of sinks or paired with an existing sink if you are looking to freshen things up in the kitchen without a full makeover.
Below we take a look at some of our favourites.
Elementi Butler Single Sink
Elementi Butler Sinks are individually handcrafted and finished in fireclay. Cool and silky to touch, they have a hard non-porous surface and are extremely resistant to heat. Inspired design and superb craftsmanship, the quality and durability of the classic fireclay ceramic Butler sink are as dependable as ever. As practical now as it was a century ago.
Find out more: http://www.robertson.co.nz/products/basins/kitchen-sinks/butler-sink-single-with-90mm-strainer-waste
Elementi Butler Double Sink with strainer waste
If you are looking for something a bit bigger and with the practically of a strainer waste, this double sink from the Elementi Butler range is perfect. Crafted to the same standard as the single kitchen sink above, the double sink makes a great addition to the 'farmhouse' styled kitchen.
Find out more: http://www.robertson.co.nz/products/basins/kitchen-sinks/butler-sink-double-with-90mm-strainer-waste
Bagno Design Scargill Inset Sink
Bagno Tec Granite sinks are made from the most advanced material used in the manufacture of kitchen sinks. They are designed to combine hard-working performance with stunning good looks and natural textures of granite including real quartz silica particles. This Scargill inset kitchen sink is finished in matt black making it an extremely contemporary piece and also features a handy draining board. The material is scratch resistant and comes with a 3 year guarantee on the finish.
Kitchen Mixers
If you are looking to freshen up your kitchen with a stylish new kitchen mixer or you are remodelling the whole kitchen, we have some great options for you.
Here are our top three kitchen mixers:
Ideal Standard/American Standard Celia Kitchen Mixer with pullout
This stylish yet simple chrome mixer from Ideal/American Standard is perfect for a wide range of kitchen designs. Featuring an extremely practical pull out spray, this kitchen mixer is great for doing the dishes or spraying off plates before they go in the dishwasher. The chrome finish is sleek and elegant and the perfect match for a wide range of kitchen sinks.
Bagno Design M-Line Low Spout Kitchen Mixer with pullout
The M-Line Kitchen mixer collection features an extensive range of stylish solutions for your kitchen in several different finishes. Designed for those looking for a beautiful kitchen. Bagno Design is based in London and their products deliver the cutting edge or European design, adding style and sophistication to any kitchen design project. This stylish kitchen mixer features a pullout spray which is practical whether you wash by hand or use a dishwasher.
Zuchetti.Kos Pan Kitchen Mixer with separate spray
The Zuchetti.Kos Pan collection uses classical archetypes to develop aesthetics and new, completely original styles. Pan is focused on connecting the vertical and horizontal elements. This kitchen mixer is a perfect example of this, featuring a three tap hole design incorporating a separate kitchen spray and finished in classic chrome. This kitchen mixer really enhances a modern kitchen design and is a great addition to a new or existing kitchen.
Here at Robertson, we have a huge range of kitchen mixers and you can view the full collection here.