Introducing Elementi Evolve – Sleek Handless Design
Monday 16 January 2017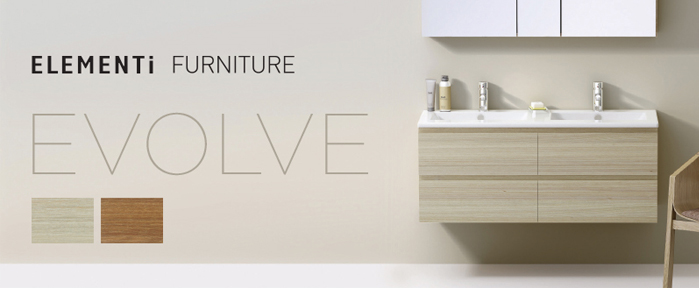 Elementi Evolve – Vanities and bathroom furniture
When it comes to bathroom design, many people tend to focus on the big ticket items; freestanding baths, shower enclosures and even the toilet but one thing that can make a huge difference both in terms of the look and the practicality is a great bathroom vanity. New for 2017 is the Elementi Evolve furniture range which includes five different vanity units which are the perfect fit for a variety of bathroom designs. Pair these striking vanities with the matching Evolve tall wall cabinet and mirror cabinets to bring together a beautiful bathroom design.
Let's take a closer look at the Elementi Evolve collection.
Bathroom vanities
The new Elementi Evolve bathroom vanities are a striking addition to any bathroom design. All five vanities are available in two durable finishes; seasoned oak or oiled legno which offers up flexibility depending on the colour scheme of your bathroom design. The particleboard has been environmentally certified and is moisture resistant delivering a highly durable and easy to clean surface. With no protruding handles, the angled drawers offer a sleek detailing which has been expertly finished and the soft close drawer technology reduces wear and tear and ensures no early morning drawer banging! All Elemtni Evolve vanities come with a five year guarantee and have been manufactured in New Zealand.
This two drawer single bowl wall vanity is perfect for a bathroom design that is short on space. The two drawers offer ample storage space and the single tap hole allows you to customise your sink with tapware of your choice.
If you have a bit more room to spare in your bathroom, the 700ml, single bowl wall vanity offers you a bit more storage room up top for your everyday items whilst the two drawers also offer a little bit more width. Again the single tap hole design allows for personalisation through your tapware.
Taking things to the next step, the 900ml Evolve wall vanity has much more room up top for storage and display. The single bowl and single tap hole design means you can add your own touch with tapware that matches the rest of your bathroom design.
The final wall vanity in the Evolve range, the 1200 is the biggest single bowl vanity and you will really notice the difference in terms of storage. With much more room up top, the Evolve 1200 is perfect for the larger bathroom and the four drawers offer up lots of storage to help keep your bathroom clutter free.
If you have a big family and a large family bathroom, the double bowl Evolve 1200 is the perfect option. Featuring two bowls, this bathroom vanity is extremely practical for busy families who are often rushing in and out of the bathroom every morning. With four drawers, there is plenty of storage space for the whole family.
Bathroom Furniture
To complement your bathroom vanity, the Evolve collection also includes some stylish and striking bathroom mirrors. These mirrors are sized to match the various bathroom vanities ensuring the perfect clean finish to your bathroom design.
Featuring a singled mirrored door and an internal glass shelf, this bathroom mirror is perfect for the smaller bathroom space. Offering a small amount of internal storage, the combination of vanity and mirror is a great way of keeping your bathroom clutter free.
Featuring two mirrored doors and three internal glass shelves, this is the perfect accompaniment for your vanity unit. The three glass shelves create a lot of space for storing everyday items, helping to keep your vanity clutter free and leaving room for accessories such as candles and diffusers.
This is a super practical mirrored cabinet that looks the business. Featuring three mirrored doors and four glass shelves, there is plenty of storage for everyday items like deodorants and toothpaste.
Perfectly matching the single or double sink Evolve vanity, this two mirror door cabinet features two internal glass shelves with plenty of storage options. This mirror cabinet will bring a sleek finish to your bathroom design.
If you really want to finish your bathroom off in style and you are still looking for some extra storage, the Evolve 1200 Wall Tall Cabinet is the perfect match. Featuring two doors with two internal glass shelves, this tall wall cabinet helps to keep your bathroom clutter free.
The Elementi Evolve range is an exciting new collection for 2017 and we are pleased to be able to bring this fantastic range to New Zealand.