A good shower can change your life!
Friday 17 February 2017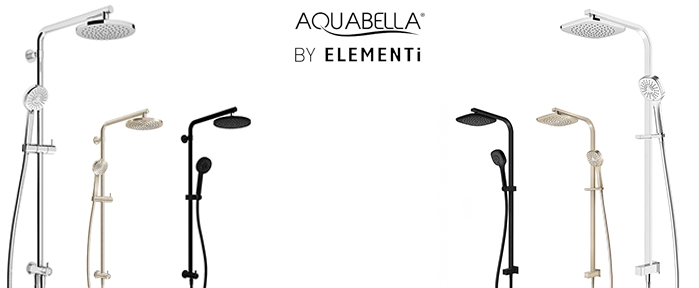 Are you fed up of your leaky shower? Does it feel more like a dribble than a power shower when you step under the water? Maybe it's time to invest in a new shower for 2017 and two of our best sellers are from Aquabella – the Senso and Splash range. Whether you are looking for a square or round style, Aquabella have got you covered. The Senso range features a square head design and comes in a range of three finishes; chrome, brushed nickel and black which add style to any bathroom design. The Splash range features a more traditional round shower head and comes in the same three finishes.
Whilst a stylish looking showers definitely helps to complete your bathroom design, a good shower is about more than just looking great. A good shower really can change your life and as well as the practicalities of keeping you clean, there are actually heaps of benefits to having a great shower every day. Here are some of our favourites.
Improves blood circulation
This one is especially true for people who like to shower in the morning. The running, warm water causes blood to rush to the skins surface and promotes good circulation. Good blood circulation plays a huge part in our overall health and wellbeing, helping to transfer nutrients to the body's vital parts. If your shower is not really packing a punch, a new Aquabella shower could be just what you need.
Energy
Some people simply can't function without a morning shower. If you're one of those people, there is nothing worse than getting under a dribble which leaves you feeling lethargic for the rest of the day. A warm or even better, a cold shower in the morning helps to give you that initial burst of energy your body needs to kick start your day.
Fight of coughs and colds
A shower can help in two ways to help fight off the onset of a cough or a cold. As well as helping your immune system by stimulating your body to make new white blood cells, if you feel a cough or cold coming on and you wake up with a throat blocked with mucus, the steam from your morning shower can help to loosen things up and get you breathing normally again.
Muscle Pain Alleviation
A shower is one of the best ways to help alleviate muscle pain. The warm water helps to relax the body, making you fell less tense and more comfortable for the day ahead. If you are more of a night shower person, a shower can really help to ease away the tensions of the day. Take a warm or cold shower after exercise can also help with muscle recovery, helping to stave off injury.
Skin health
Keeping clean is an important element of good skin health, however a morning shower can be particularly helpful in helping to balance out your skin's natural oils and help to tackle skin problems like acne. A good shower is also great for combating oily hair and scalp issues and ensure you are looking your best to face the day ahead.
Aquabella Shower Ranges
If this has inspired you to start looking for a new shower, make sure you check out the Aquabella Senso and Splash ranges below. The range of finishes makes them the perfect addition to a wide variety of bathroom designs and they can be matched with Elementi's Uno range of tapware to complete the look.