Why you need a walk-in shower this summer.
Monday 06 December 2021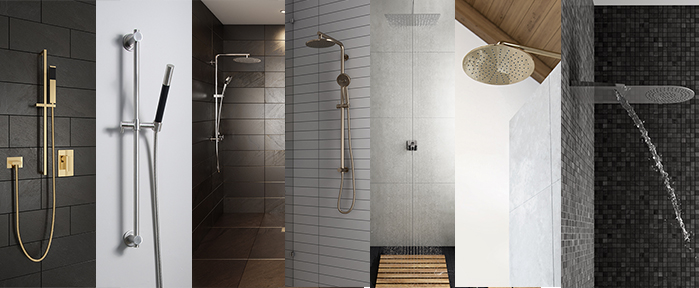 So, summer is nearly upon us here in New Zealand. The warm weather is just around the corner and for many people that means more time spent at the beach and in the water. It also means more showers. After a day spent at the beach or swimming in the sea, there is nothing better than getting home for a nice cleansing shower. If you really want to feel pampered this summer, it's time to invest in an awesome walk-in shower.
Benefits of walk-in showers
If you are planning a bathroom redesign, now is the time to think about a walk-in shower. Cubicles do have their benefits. They keep all the water in one space. They are compact. They are practical.
However, the freedom offered by a walk-in shower is truly liberating.
Imagine just setting the water running and in you go. No doors. No step up. Just straight into the shower. They are also super easy to keep clean. Most walk-in showers don't have glass and the tiles are often easier to clean. The same goes for the shower floor. Often tiled, these can just be mopped along with the rest of the bathroom floor.
You also don't need a huge space for a walk-in shower. You just need to plan well. That's where we can help. You can speak to our Architects and Design Team who will be more than happy to help you plan a layout that can accommodate an awesome walk-in shower.
7 of the best walk-in showers for 2022
Looking for some inspiration? Check out these seven fantastic walk-in showers and get planning that bathroom reno in 2022:
1. Elementi Splash Slide Shower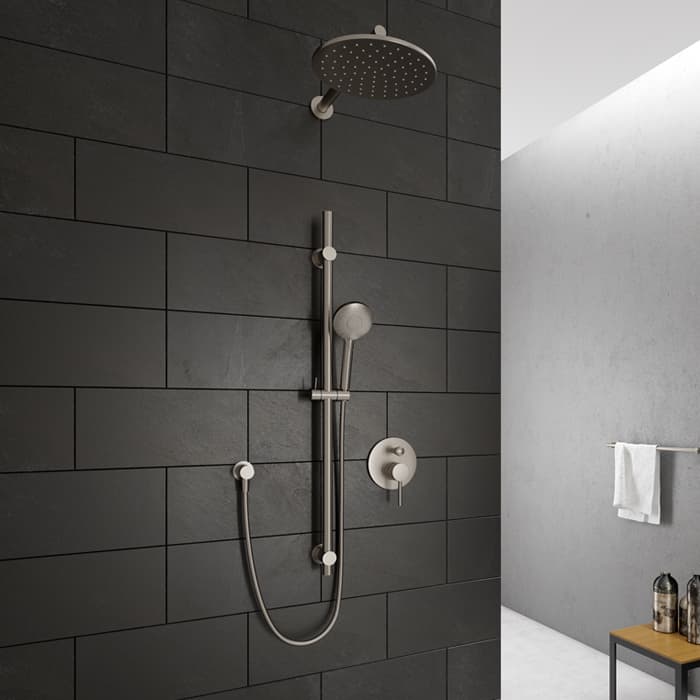 The Elementi Splash Plus Slide Shower is ideal for walk-in showers and comes in a range of finishes including chrome, brushed nickel, black, gun metal and brushed black, making it a practical option for a wide range of bathroom designs. For gorgeous design and clever engineering, look no further than the Splash Plus collection of showerheads, slide and column showers, designed to complement any bathroom environment.
2. Elementi Splash Lux Column Shower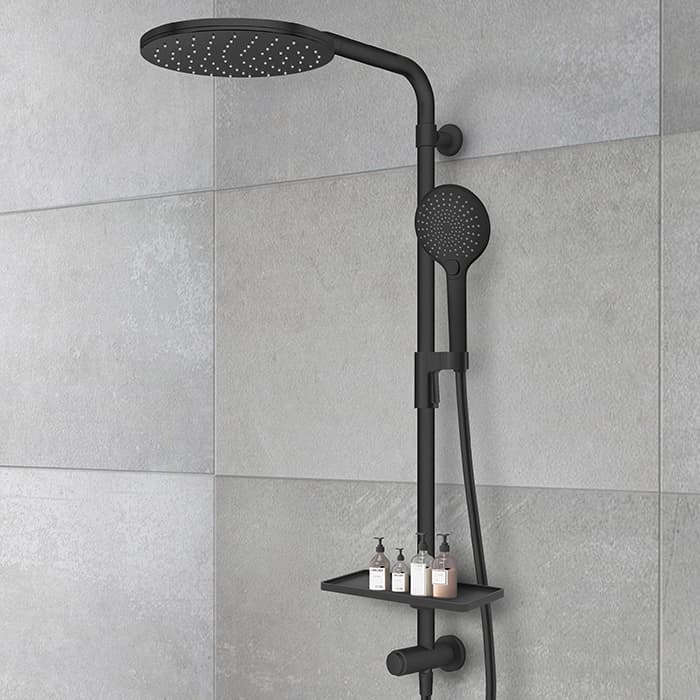 Like the Elementi Splash Plus, the Elementi Splash Lux Column Shower comes in a range of finishes making it an ideal choice for lots of different bathroom designs.
Splash Lux offers a spa-like experience with the 3 spray handpiece and large overhead shower for complete showering indulgence.
3. Grohe Aquasymphony Shower Head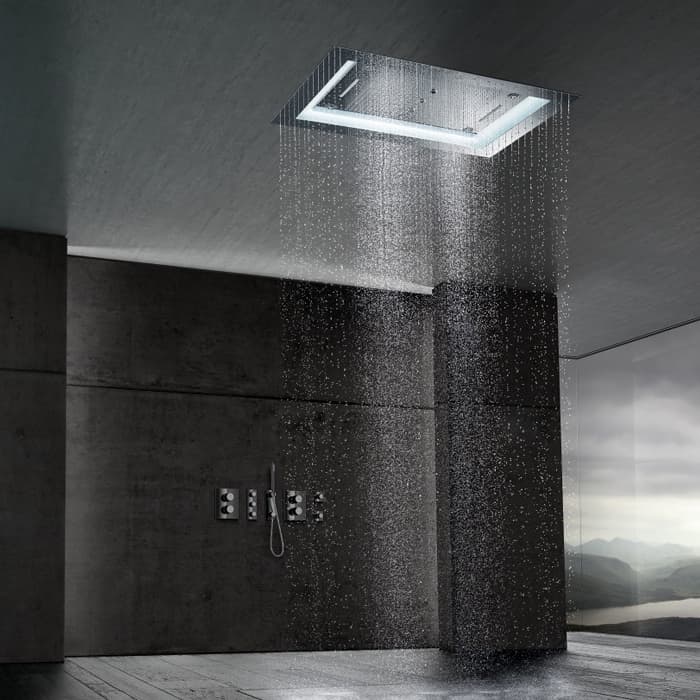 Imagine you could start each and every day with an excursion into paradise. AquaSymphony by GROHE lets you escape for a moment and step into another world: a world where the interplay of water exhilarates and renews you, bathing you in softly coloured light and soothing you with relaxing sounds. Become part of a composition that inspires all the senses – the symphony of showering.
AquaSymphony is not a shower – it's a wellness zone, a place where water takes on a life of its own. AquaSymphony plays with water, creating ever-changing liquid harmonies – perfect for a walk-in shower.
4. Aquabella Splash Column Shower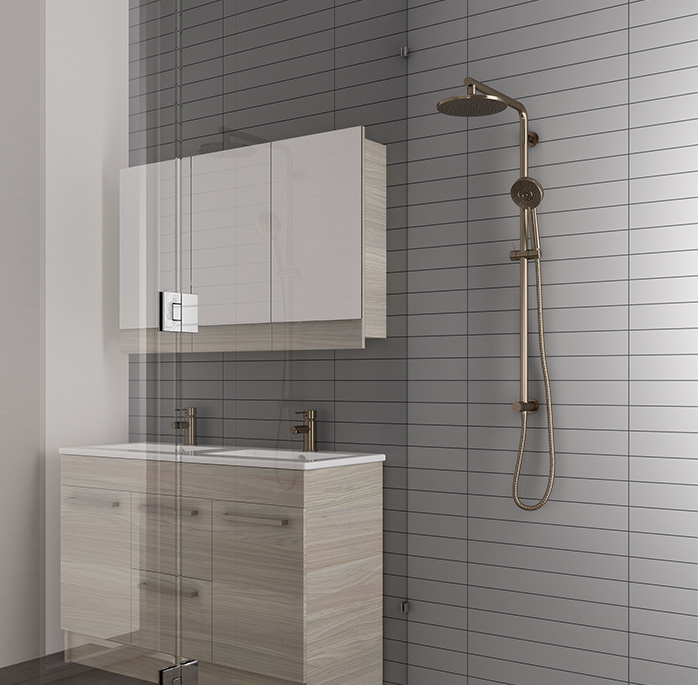 The Elementi Aquabella Splash Column Shower is perfect for walk-in showers, even though the image above shows the shower being used in an enclosure. The additional detachable showerhead is perfect for rinsing off or simply relaxing under the warm stream from the main showerhead.
The Aquabella Splash shower features Aqua Air technology where air injected water creates a better shower experience whilst using up to 50% less water. The air and water mix provides superb flow performance that is both soft and invigorating.
5. Aquabella Vibrant Ultra Flat Rain Head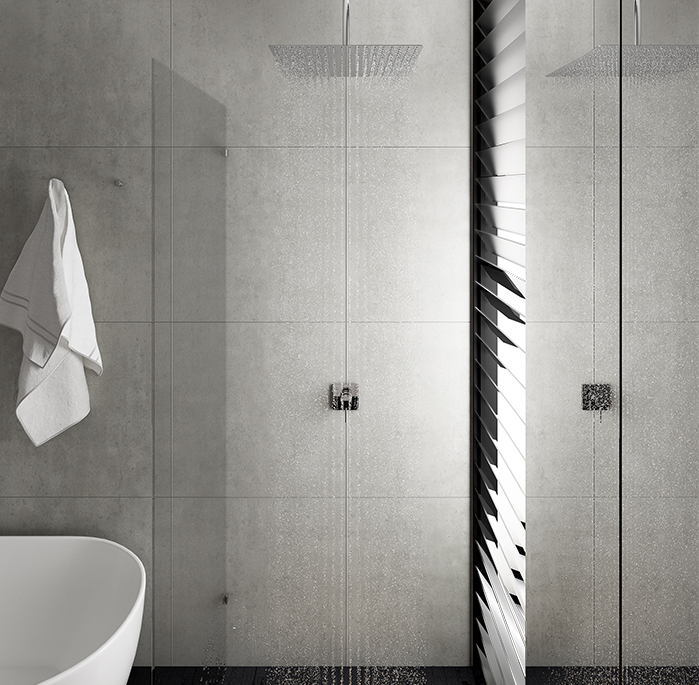 Whilst our image above shows the Elementi Vibrant Flat Square Rain Head in an enclosure, this style of shower head is perfect for walk-in showers as there is no change in angle so less chance of splashing spreading into your bathroom with no door or glass.
All our "Vibrant" products feature our very own "Aquaspray" technology which precisely mixes water with air to create a soft yet refreshing spray - all at fingertip touch. And all are only 2mm thick, with clean, soft edges for that really ultra-flat look.
If square is not your thing, make sure you check out the Vibrant Ultra Flair Round Rain Head.
6. Grohe Smart Control Valve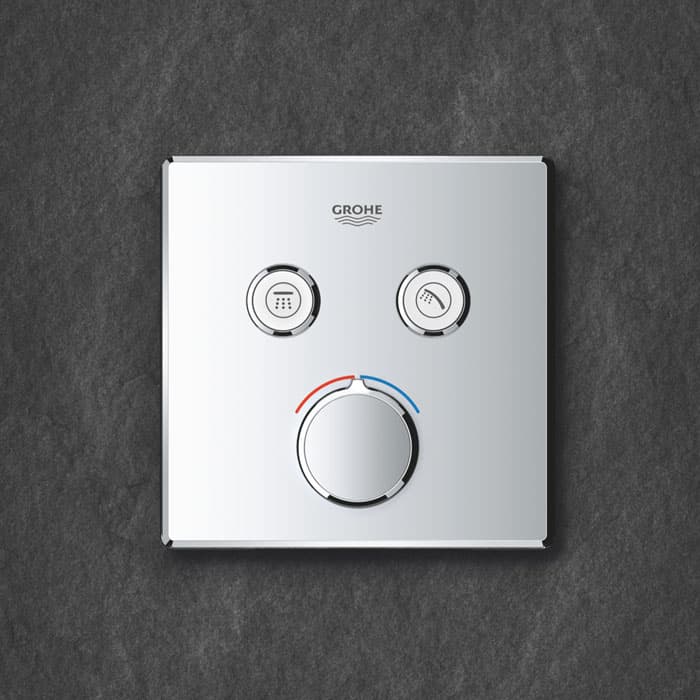 The hidden advantages of concealed technology. If you're looking to enhance your modern, minimalist bathroom look without compromising on usability and performance, then fit a thermostat that takes both to the next level. Packed with useful features, SmartControl concealed thermostat's innovative technology allows you to select your desired spray source and adjust the water volume at the push-turn of a button.
7. American Standard Cygnet Column Shower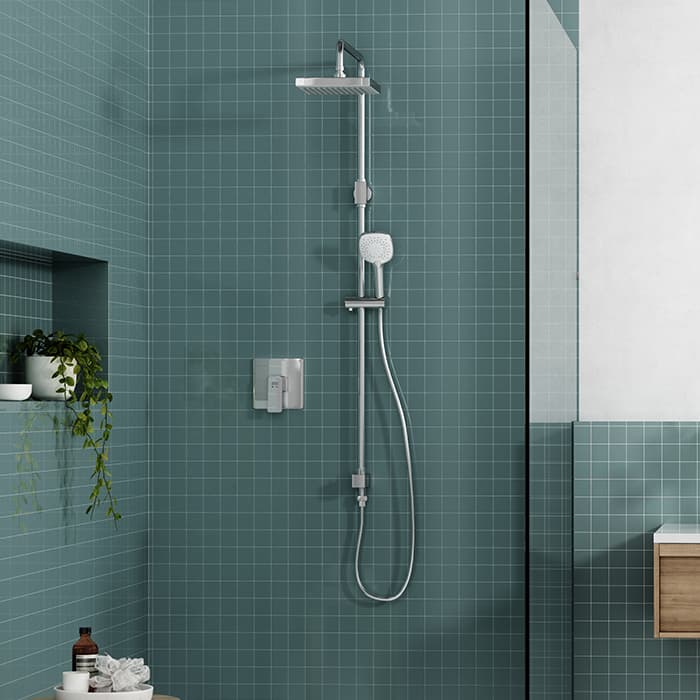 Completing our top seven is the American Standard Cygnet Column Shower with a square head and detachable hand shower. The Cygnet shower features DuraShine – a protective and shiny chrome coating that give enduring brilliance.

An effortless combination of bold lines and soft square edges, the American Standard Cygnet Square Overhead Shower is a modern and functional shower for everyone.
You can shop online today and browse our full range of showers many of which are suitable for a walk-in shower design. You can also check out our full range of shower enclosures if you are still looking for a cubicle shower for your bathroom renovation project.