Victoria & Albert – International Design Awards winning design is unveiled
Wednesday 25 May 2016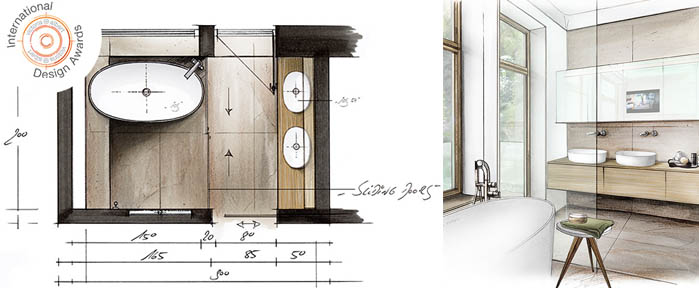 WELLNESS MEETS ELEGANT FUNCTIONALITY.
The bathroom is divided into 2 distinct zones. The "Aqua Zone", featuring the ios bath and the Tubo 21 shower. The "Comfort Zone" features a vanity with two ios 54 basins, providing ample space for 2 people. The two areas can be separated from each other by a sliding glass wall.
The choice of materials and colour scheme gives the room a natural, timeless appeal. The stone effect on the wall and floor tiles highlight the natural white gloss of the ios bath.
Atmospheric lighting, seating, storage and comfort have all been considered in this cleverly designed bathroom- proof that small can be perfect.
Stephan Poppelmann said of his winning design; "You need a lot of creativity, to design Bathrooms in small spaces, so it was an exciting challenge to create a Wellness Area with only 6 square metres. I ensured that functionality and appealing design can be implemented in a small bathroom, combining beauty and usability. I couldn't believe it when I received the message, that I'd won the competition. It's incredibly exciting to know that I'll see my ideas coming to life at Salone del Mobile, one of the top destinations for global design."
Highly Commended Designs
In total, there were over 180 entries from across the world. Three Highly Commended Designs are as follows:
Sophia Chan, VOA Design Associates, New York
Nicola Zocca, Italy
Ponkit Jaruchaikun - Student Award, Raffles Design School, Singapore