The innovative RainClick Shower by American Standard
Friday 08 March 2019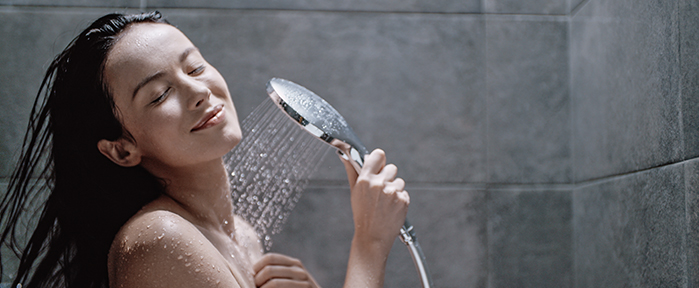 1. Tell us more about RainClick Handshower.
RainClick Handshower is the embodiment of American Standard's dedication to provide innovative products that meet the needs of today and that of future generations. It elevates the shower experience, delivering three uplifting shower modes with just a click of a button. Customizing your shower has never been easier or this much fun with RainClick Handshower.
2. What led to the development of RainClick Handshower?
At American Standard, we understand the importance of human-centric design. And we clearly recognize that consumers attest to functionality that not only works, but provides a realm of insight into what they really need - convenience.
In this time and space, most people take quick showers and the shower fittings should reflect this trend as well. Hence, we introduced the RainClick Handshower, one of our latest innovations that delivers the ultimate shower experience at the convenience of a button.
3. I have an existing handshower that also offers different shower modes. What makes RainClick handshower so special or different?
Conventional handshowers with different spray modes are fashioned with rotatable spray discs to select different spray modes. Rotating the discs on showerheads can be a daunting task, especially with wet and soapy hands. And while one is at it, water is unnecessarily wasted. With the RainClick Handshower, users can simply use the same hand that is holding the handshower to push the click button, toggling from one spray mode to another to enjoy their desired shower mode.
Other features of RainClick Handshower that differentiates it from others:
• Three indulgent shower modes to meet your individual shower needs
Tranquil Rain: A consistent and wide gentle spray that is ideal for thorough cleansing and rinsing shampoo out.
Jet Rain: A directed and target spray that provides a massaging effect for sore, tired muscles.
Therapy Rain: A soothing vortex-like jet spray that gently relaxes the body.
• Easy Maintenance
Rubber nozzles on the showerhead make it easy for users to clean the showerhead. Water consistency can be maintained by simply rubbing the limescale off the nozzles to ensure smooth water delivery.
• Ergonomic positioning of the Click Button
The Click Button is positioned conveniently at the bottom of the showerhead disc, providing user convenience and ergonomics - be it whether you are a left-hander or a right-hander.