Iconic Awards 2017: nine awards for GROHE
Thursday 28 September 2017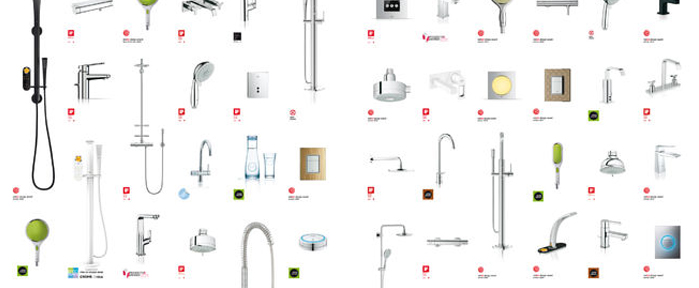 Category "Product": three "Best of Best" Iconic Awards 2017 for Blue Home, Concetto Professional and Euphoria 260 as well as for Sense and Sense Guard, Lineare, Essence Professional and Smart Control Concealed
Category "Communication": award for the publication series "GROHE Architekturlösungen" ("GROHE Architectural Solutions")
Category "Architecture": award for GROHE's trade fair booth at the ISH 2017
Every year, the Iconic Awards recognize visionary buildings, innovative products, and sustainable communication in the sectors of architecture, construction, industry and production industry. This year, GROHE has been announced as the winner of nine coveted awards in the categories "Product", "Communication" and "Architecture". The official award ceremony will be held on the 4th of October 2017 at BMW Welt in Munich.
Three "Best of Best" and four more Iconic Awards 2017 in the category "Product"
The GROHE Blue Home tap water system, the professional Concetto Professional kitchen tap and the Euphoria 260 shower head are each receiving a "Best of Best" Iconic Award 2017 in the "Product" category. At the touch of a button, the tap water system GROHE Blue Home delivers delicious filtered water chilled to the perfect drinking temperature in three options: sparkling, lightly sparkling or still, directly into your glass. The system, which combines timeless design with innovative technology, consists of an elegant kitchen tap and a high-performance cooler with integrated filter. This "private water source" will ensure you remain refreshed in the most sustainable and resource-saving way possible. With its GrohFlexx and EasyDock M technology, the GROHE Concetto Professional kitchen tap is incredibly flexible and easy to use. The tap has a silicone hose with an integrated metal spring, allowing it to turn 360 degrees, and a button for easily switching between normal water flow and jet spray – perfect for washing dishes, rinsing vegetables and filling tall pots effortlessly.
With its 260mm diameter and three zone features, the Euphoria 260 shower head transforms showering into a soothing and custom-made experience. The users can change the flow of water to suit their mood, changing gradually from a powerful concentrated jet to a stimulating and invigorating stream to a full soft rain shower with a simple turn of the SmartControl panel.
In the category "Product", GROHE is also receiving Iconic Awards this year for the tap collections Lineare and Essence Professional as well as for the concealed control element SmartControl Concealed and GROHE Sense and GROHE Sense Guard, the new water security system. With its clear lines, the Lineare series of faucets creates contours in your bathroom, while the Essence Professional tap line makes your work in the kitchen more efficient and more comfortable. The flush and minimalist designed control panel SmartControl Concealed can be controlled by an intuitive push button and turn knob technology. The innovative and smart water safety system consisting of Sense and SenseGuard detects and protects homes against water damage.
GROHE at the ISH 2017 – winner in the category "Architecture"
GROHE is receiving an Iconic Award in the category "Architecture" for its impressive booth at the ISH 2017 in Frankfurt am Main, the world's leading trade fair for bathroom, building, energy, and climate technology, and renewable energy. With the slogan "WATER. INTELLIGENCE. ENJOYMENT." GROHE presented itself as a pioneering market leader in the sector and showcased the digital controllability of water as an innovation in its own spectacular exhibition hall.
GROHE Architekturlösungen – winner in the category "Communication"
With its publication series "GROHE Architekturlösungen", a supplement of the German construction magazine "DBZ Deutsche BauZeitschrift", GROHE is receiving an Iconic Award in the category "Communication". Each issue features a specific theme (e.g. hotels, office buildings, or care and nursing homes) that presents construction projects and the GROHE products incorporated therein. Also, they give answers to architectural questions. "GROHE Architekturlösungen" is one of the company's central communication tools and its target audience consists of architects, professional planners, plumbing experts and theme-specific groups.